Opinia Furutech FT-SWS(R) NCF
2019-04-29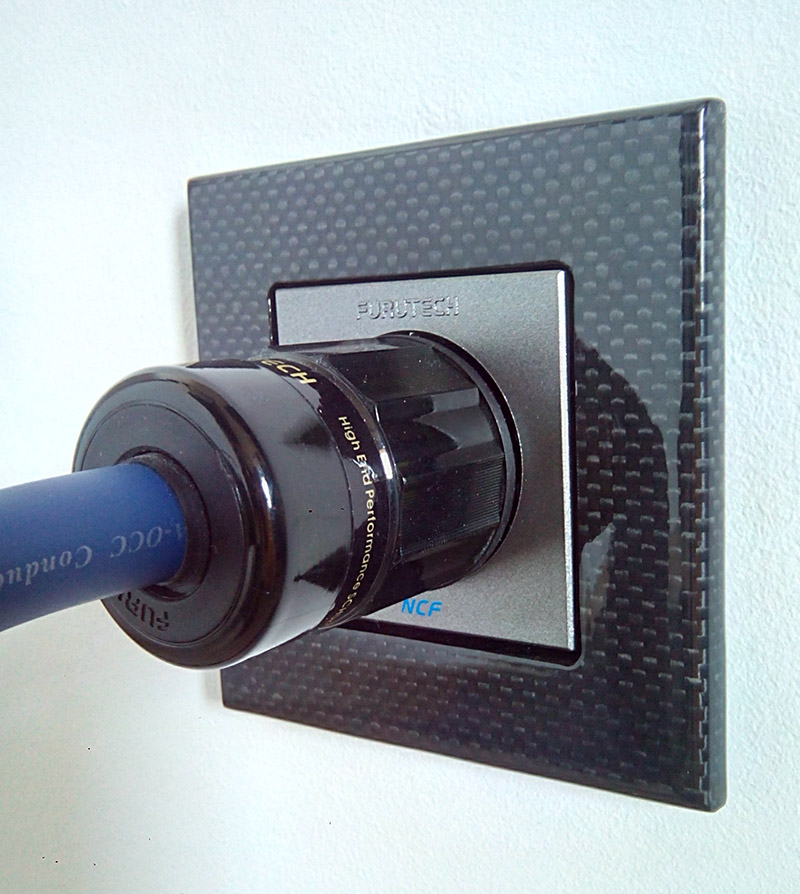 Długo zastanawiałem się nad zakupem w końcu najdroższego, ale też teoretycznie najlepszego gniazdka ściennego z oferty Furutecha FT-SWS(R) NCF. Poprzedniego modelu bez "NCF" nie miałem okazji testować, więc skupie się na tym konkretnym modelu.
Jest jeden test tych gniazd Furutecha na internecie, przeprowadzony przez jednego z "guru" polskiego przemysłu muzycznego, więc jako zwykły prosty człowiek, który kocha muzykę i nie może bez niej żyć (w końcu przecież nie taki wyśmienity audiofil jak ten redaktor) odniosę się do tego co ten Pan napisał. Oczywiście proszę też wziąć pod uwagę, że cały mój sprzęt grający łącznie z okablowaniem nie kosztuje tyle co jego końcówka mocy, heh. No cóż. Zastanawiam się, czy ten wyśmienity redaktor po zgaszeniu światła byłby w stanie odróżnić audiofilski interkonekt od zwykłego druta. Dobrze, koniec tych dywagacji.
Wykonanie gniazdka jak na japońską precyzję przystało jest wyśmienite, po prostu high-endowe. Każdy szczegół wykonany jest niezwykle precyzyjnie na tle konkurencji, nie mówiąc o zwykłym gniazdku z hurtowni ze sprzętem elektrycznym. Wszystkie blaszki przylegają do siebie z zegarmistrzowską precycją, a jakość użytych materiałów jest na najwyższym poziomie. Jedyna uwaga to taka, że gniazdko jest naprawdę głębokie i wymaga głębokiej puszki do osadzenia w ścianie!
Od testowanego gniazda ściennego do listwy zastosowano przewód Furutecha FP-3TS20 zakonfekcjonowany wtykami FI-E38(G) / FI-28(G). Po wielu testach uznaliśmy, że to najlepsza możliwa opcja podłączenia mając do dyspozycji jak na razie tylko jeden audiofilski kabel zasilający (pozostałe podłączenia ww. przewodu od listwy do wzmacniacza czy też odtwarzacza CD nie przynosiły tak dobrych rezultatów).
Po włożeniu płyty CD do odtwarzacza i po uruchomieniu systemu grającego doznałem lekkiej konsternacji (nie mylić z szokiem). Czy to aby na pewno gra mój wzmacniacz?! Tak, to dalej ten sam system grający, ale jakże inny dźwięk wydobywający się z kolumn. W porównaniu do zwykłego przeciętnego gniazdka ściennego za kilkadziesiąt złotych, dźwięk się znacząco uspokoił, ale w tak pozytywnym aspekcie, że dalej byłem w lekkiej konsternacji. Każdy dźwięk nabrał innej barwy! Słyszałem więcej, blachy perkusji stały się wręcz namacalne, a przestrzeń wzrosła kilkukrotnie. Przestrzeń to nie wszystko, pojawiła się duża głębia przekazu. Po zgaszeniu światła mogłem sobie wyobrazić, że tuż przede mną stoi wokalista, a tam gdzieś za kolumnami (może nawet za ścianą u sąsiada) perkusista. Faktem jest, że w porównaniu do zwykłego gniazdka spadła dynamika przekazu, perkusja i bas stały się słabsze, bardziej płaskie, ale tylko w pozytywnym tego słowa znaczeniu. Wybrzmienia niskich tonów były za to dłuższe, nie męczące i bardzo przestrzenne.
Średnica i góra pasma wybrzmiewały z nieprawdopodobną precyzją i zacząłem słyszeć dźwięki, których do tej pory nie było w moim systemie grającym. Aż trudno w to uwierzyć. W końcu zacząłem "słuchać" muzyki, a myślałem, że już jej "słuchałem" przed zamontowaniem gniazda Furutecha.
Po przepięciu się na zwykłe gniazdko zasilające, nie mogłem już się przełamać i zaraz wróciłem do ustawienia z Furutechem. Mimo, iż na zwykłym gnazdku dynamika stała się większa, bas zdecydowanie mocniejszy, bardziej twardy (co może podobać się jednak fanom ostrego grania) zniknęły gdzieś "czary". Bas przytłoczył detale i wybrzmienia wysokich tonów. Dźwięk był po prostu pospolity, no i gdzie te "smaczki", nie mówiąć o przestrzeni, a już w ogóle o głębii przekazu.
Podsumowując gniazdko Furutecha FT-SWS(R) NCF nieprawdopodobnie wpływa na dźwięk, poprawiając wszystkie jego aspekty, w porównaniu do zwykłego gniazdka zasilającego. Jestem jednak więcej niż pewny, iż nie spodoba się ono fanom bardzo ostrego rocka. We wszystkich pozostałych gatunkach muzycznych może przynieść tylko poprawę dźwięku na wręcz high-endowym poziomie.
Hi-Fi Set: Testowane na sprzęcie:
• Wzmacniacz: Magnat RV 4
• Odtwarzacz CD: Magnat MCD 1050
• Kolumny podstawkowe: Heco Celan GT 302; standy Taga Harmony TSS-60G; podkładki pod kolce Audiovector FPU
• Kable sygnałowe RCA: Wireworld Platinum Eclipse 6
• Kable głośnikowe: Wireworld Eclipse 7 EQB
• Listwa zasilająca: Oehlbach Powersocket 907
• Przewody zasilające: Furutech FP-3TS20 FI-28(G)/FI-E38(G) do listwy sieciowej
• Oddzielna linia zasilająca, gniazdo ścienne schuko Furutech FT-SWS (R) NCF
Recommended