Recenzja kabli zasilających Furutech vs Wireworld Silver Electra vs Purist Audio Design Musaeus
2018-11-29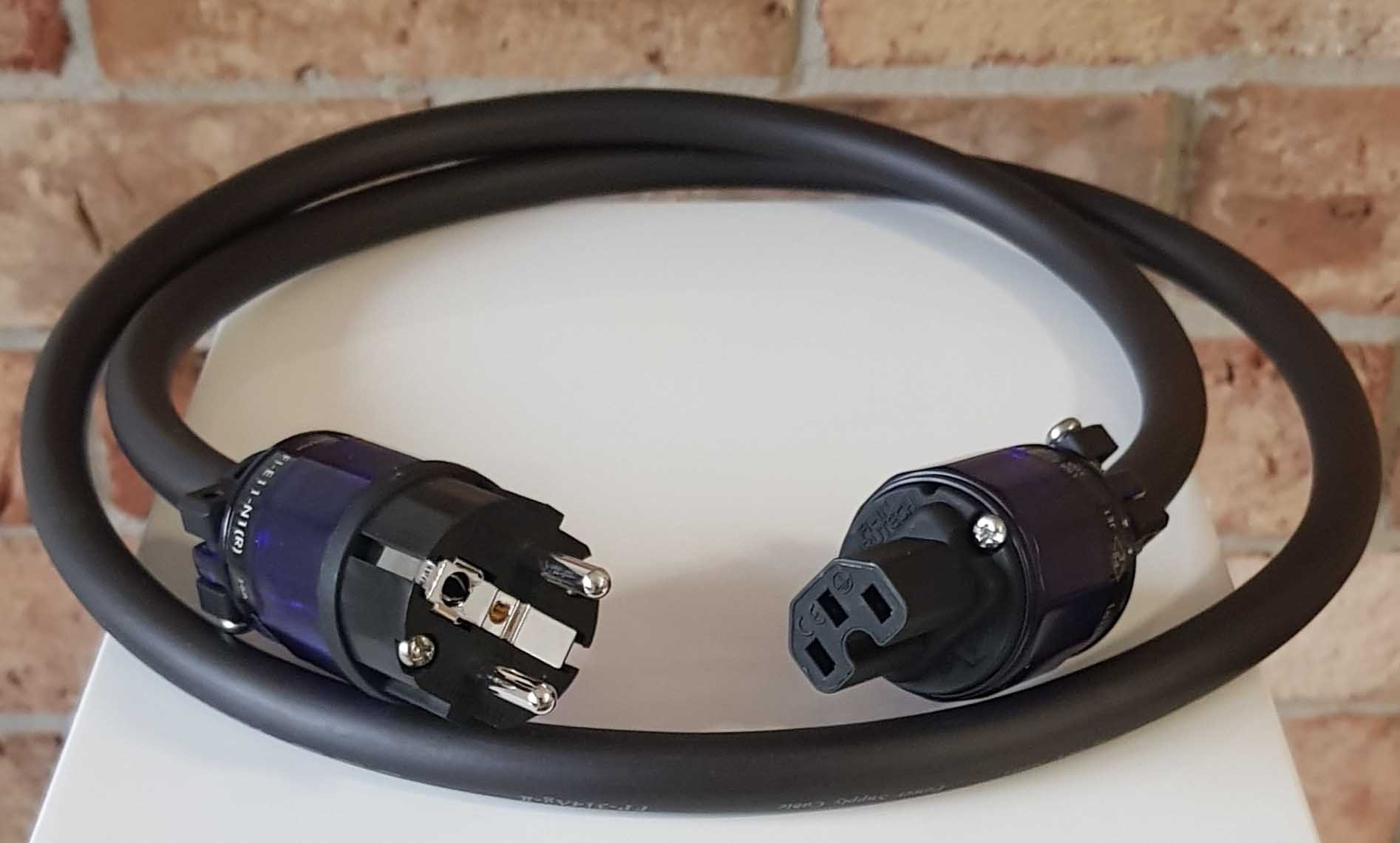 Ostatnio miałem okazję przetestować w swoim systemie 4 różne kable zasilające, celem było znalezienie jak najlepszej według mnie konfiguracji -takiej która pokaże jak najwięcej walorów pozostałych komponentów systemu, zaciekawi i sprawi że słuchając ulubionej muzyki będę mógł się odprężyć. Poszczególne konfiguracje kabli wpływały na końcowe brzmienie w różny sposób, te które uznałem za najlepsze opisałem krótko w dalszej części.
W zestawieniu znalazły się dwa kable firmy Furutech, kabel Purist Audio Design Musaeus oraz Wireworld Silver Electra 7.
W krótkim opisie poniżej skupiłem się na opisaniu wrażeń po odkryciu dwóch najciekawszych konfiguracji. Oczywiście proszę uwzględnić czynniki takie jak: dobór komponentów systemu, specyfikę pomieszczenia odsłuchowego czy własne subiektywne preferencje. W każdym razie robię to w dobrej wierze że komuś ułatwię ten niełatwy wybór.
Testowane modele
:
Furutech FP-3TS762 / FI-28(R) / FI-E38(R)
Furutech Alpha PC Triple FP-S35TC/TCS31 / FI-28G / FI-E38G
Wireworld Silver Electra 7
Purist Audio Design Musaeus
#Konfiguracja I
Wzmacniacz - Furutech FP-3TS762 / FI-28(R) / FI-E38(R)
DAC - Purist Audio Design Musaeus
W tym zestawieniu dźwięk spodobał mi się najbardziej. Ze wszystkich testowanych sieciówek to Furutech z rodowanymi wtykami pozwolił wzmacniaczowi -zabłysnąć- prezentując dźwięk najbardziej rozdzielczy, o szerszej scenie i odpowiednim napowietrzeniu -dodam że pomimo że są to różnice dość subtelne byłem w stanie je usłyszeć. Barwa sprawiała wrażenie ciut mniej wyrazistej czy kontrastowej niż kiedy wzmacniacz zasilany był przez Wireworld Silver Electra 7 -co nie oznacza że czytelność barwy i tonów Furutecha nie była wystarczająco dobra. Furutech na rodzie wywołał u mnie więcej pozytywnych emocji podczas odsłuchów, zafundował ciut więcej "magii", przy zachowaniu naturalności. Jego brzmienie określiłbym jako w pewnym stopniu romantyczne (takie rozmarzone - bardzo delikatnie rozjaśnione) -nienachalne o odpowiedniej mocy, z dodatkiem subtelnej energii. Dźwięk w takiej konfiguracji wydał mi się bardzo satysfakcjonujący, a co najważniejsze nie męczył przy dłuższych odsłuchach. Purist świetnie się sprawdził w połączeniu z Heglem, wydobył z DAC'a to co najlepsze -usłyszałem więcej bogactw, szczegółów i wspaniałą kulturę brzmienia, byłem (jestem) pod wrażeniem tego duetu. Nawet podczas słuchania muzyki elektronicznej usłyszałem więcej subtelnej klasy, harmonii, a do tego dobrze brzmiące wokale. Wydaje mi się że nie bez znaczenia jest to, że w sieciówce Furutecha mamy do czynienia z dobrymi wtykami pokrytymi rodem.
#Konfiguracja II
Wzmacniacz - Wireworld Silver Electra 7
DAC - Purist Audio Design Musaeus
Ten duet zaproponował brzmienie ciut pełniejsze, wyraźniejsze i bliższe słuchaczowi. Wireworld zaprezentował się bardzo dobrze - scena potrafiła wciągnąć, dźwięk był zbalansowany, dynamiczny, a przy tym rozdzielczy (ciut mniej niż Furutech). Żadne z pasm nie było specjalnie uprzywilejowane (równowaga), scena potrafiła wciągnąć, a dźwięki się nie zlewały. W tej konfiguracji dostałem żywsze brzmienie, o bardziej podkreślonych licznych detalach (np. klarowne i intensywne brzmienie instrumentów). Po dłuższych odsłuchach uznałem że wolę dźwięk subtelniejszy, a jednocześnie minimalnie bardziej rozdzielczy -który jest również wystarczająco muzykalny (konfiguracja I). Jest to moja subiektywna opinia i pomimo tego uważam że Wireworld Silver Electra to ciekawa opcja i warto się o tym przekonać samemu.
Z obu powyższych konfiguracji wybrałbym pierwszą, ta najbardziej przypadła mi do gustu. Pozostałe konfiguracje, których nie opisałem wypadły dość blado -w porównaniu do wyżej opisanych. Dzięki temu że miałem okazję przetestować również inne kable Furutecha z wtykami pozłacanymi -wiem teraz że te rodowane lepiej współgrają z Primare i32, pozwalając mu na ciut więcej kreatywności (oczywiście na granicy terytorium neutralnego). Purist Musaeus natomiast świetnie napędził Hegla HD12 i pozwolił mu zaprezentować się z najlepszej strony.
#System Testowy
Wzmacniacz: Primare i32 (+bezpiecznik Verictum X-Fuse)
DAC: Hegel HD12 (+bezpiecznik Verictum X-Fuse)
Kolumny podstawkowe: KEF R300
Okablowanie
:
kable głośnikowe Chord Odyssey 2
Wireworld Oasis 6,
kabel XLR (Chord Chameleon VEE 3)
Listwa zasilająca DC-components
Akcesoria: gniazdko Furutech FT-SWS-G 


~~Marcin