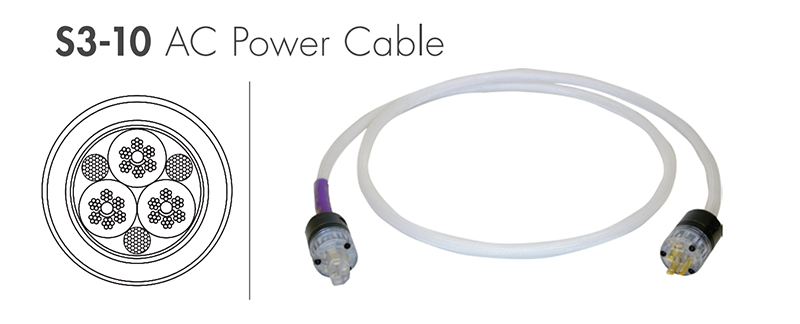 S3-10 AC Power Cord
The next step up to sound and picture perfection. XLO's Signature 3 Type 10 AC Power Cord's advanced design and up-to-the-minute materials technology makes the sound of amplifiers, receivers, CD players, CD transports and other components clearer, more natural, and obviously better. It also makes a clearly visible difference in the picture quality, detail resolution and color balance of any kind of TV set, video projector, or DVD player. You DO need to make the change!
Advanced technology protected by U.S. Patent Number 7,170,008
Symmetrical winding geometry
14 AWG, 6N (99.99998% pure) UPOCC-6N, individually insulated copper conductors with XLO's original two proprietary treatments plus multi-step high intensity degaussing and full cryogenic treatment to regularize cable and connector molecular structure for improved performance
Exclusive bi-metallic double-shielded and double-grounded construction for broader bandwidth EMI and RFI rejection
XLO™ electrical safety certified, with UL approved connectors; (UL) certification pending, but expected soon on improved cable design
Terminated as standard with XLO™ proprietary 15A/125 VAC NEMA AC plugs and IEC connectors featuring OCC copper contacts and precision machined and anodized non-conductive aluminum alloy connector shells
XLO™ cable identification ring with serial number for cable authenticity



Lenght

:

0,9m

,

1,83m

Conductor type

:

OCC



Polecane

XLO R3-10 (Reference) - EU schuko
498,57 € - 1 005,88 € / pcs.

XLO UP10 (UltraPlus 10) - schuko
295,20 € - 699,74 € / pcs.

XLO XP-10 - (PRO serie) - EU schuko
227,42 € - 295,20 € / pcs.
24 months - Warranty is granted by the producer for a period of 24 months.
24 months