NorStone Khalm to niezwykle elegancki stolik RTV, który dzięki nowoczesnym rozwiązaniom sprawdzi się w każdym wnętrzu.
Posiada wiele zalet, dzięki którym nawet bardzo wymagający klienci będą z niego zadowoleni.

Firma NorStone zadbała w tym modelu o dyskrecję i wygodę użytkowania, ale także o utrzymanie swoich standardów dotyczących designu mebli.
Podstawową zaletą tego produktu jest zamykana półka z odchylanymi drzwiczkami, pozawalająca na ukrycie sprzętu w jej wnętrzu. Zabezpiecza ona go jednocześnie przed działaniem czynników zewnętrzych, a system otworów odprowadzających ciepło zapobiega przegrzewaniu się układów.
Dodatkowo istnieje możliwość dwojakiego umieszczenia mebla w pomieszczeniu – można postawić go standardowo na podłodze, na nogach, a także powiesić na ścianie, za pomosą firmowych zaczepów z regulacją poziomowania. Dzięki temu powstaje wyglądająco efektownie, ale również dyskretnie, półka.
Norstone Khalm jest dostępny w pięciu wariantach kolorystycznych – białym, czarnym, szarym, biało - dębowym i czarno - orzechowym, co pozwoli na dopasowanie koloru mebla do każdego wnętrza.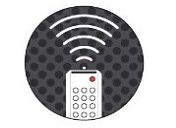 System przepuszczający fale IR     Możliwość dowolnej konfiguracji    Możliwość postawienia lub powieszenia      System wentylacji zamykanej półki


Specyfikacja:
Wymiary ogólne (Sz x W x Gł): 1000 x 483 x 520 mm

Obciążenie:

Stolik stojący: górna półka 50 kg
dolna półka: 20 kg
Stolik wiszący
górna półka 35 kg
dolna półka 15 kg

Opakowanie: Dostarczone do samodzielnego montażu z kompletem śrub, instrukcją montażu i narzędziami.

Ilość opakowań: 1

Wymiary ogólne (Sz x W x Gł): 1110 x 600 x 140 mm

Waga brutto: 28 kg

Waga netto:26 kg
Polecane

Norstone Stabbl HI FI - szafka RTV

Norstone Tiblen SB - stolik pod TV

Norstone Esee - stolik RTV - czarny
24 months - Warranty is granted by the producer for a period of 24 months.
24 months