Highest quality  Oyaide Power Inlet PP
Overview
A powerful setup has been created for the audio power inlet. The body resin is made of engineering plastic/PBT containing 30% glass filler. It has excellent durability as well as vibration resistance and heat resistance, and can be soldered more easily than general inlets. High precision cutting of phosphor bronze plate for blade material. Furthermore, after mirror finishing by hand polishing, by applying two-layer plating of platinum + palladium, not only conduction efficiency but also insertability and sound quality have been improved. The terminal shape is also a wide type that allows faston terminals to be attached, and you can use either soldering or faston terminals. As its name suggests, "POWER INLET PP" with high usability adopts "FTL-PP" with platinum + palladium plating on the included faston terminals, and makes full use of the features of platinum + palladium plating. It has become. Everyone will be amazed at the impact that this small part, which is seemingly innocent at first glance, will have on power transmission.
Feature
"POWER INLET PP" is a power inlet exclusively for audio equipment, which is made of phosphor bronze blade with mirror finish (buffing) and finished with platinum + palladium plating. Oyaide Electric's original "FTL-PP" (Faston terminal, platinum + palladium plating finish) is attached, and the wiring part is a wide type that Faston terminal can be attached. With its smooth conductive performance, it contributes to upgrading the equipment used.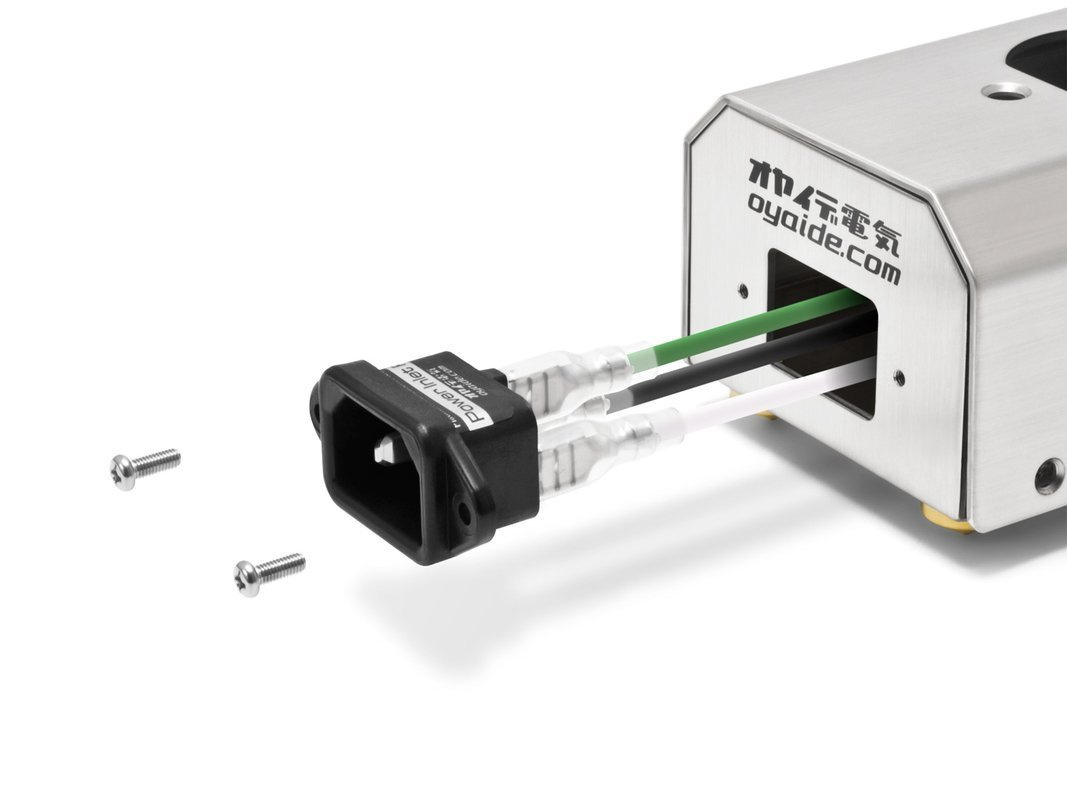 The main body resin is PBT containing 30% glass filler, which has excellent durability and vibration resistance.

 

It has excellent heat resistance against heat when soldering, and resin deformation and damage are less likely to occur, so soldering is easier than with ordinary inlets.
The blade uses phosphor bronze instead of general brass.

 

Phosphor bronze is a high-performance material that has a well-established reputation in our outlets and power plugs.

 

Oyaide Electric is the world's first example of adoption in the inlet (POWER INLET R).

A φ2.6 round hole is provided on the inner side of the blade to allow stranded wires up to 3.5 scare or single wires up to φ2.6 to pass through, enabling even more firm mounting when soldering.
24 months - Warranty is granted by the producer for a period of 24 months.
24 months