ViaBlue SC-6 Air Silver BI-AMPING T6s - banana 
The SC-6 AIR ViaBlue™ Silver speaker cable transfers the three frequency ranges of high, mid and low frequencies, over six individual conductors in a circular arrangement, each isolated from another. The spatial separation of the individual conductors is created by the ViaBlue™ air pipe system. The existing range of distances between the different frequency ranges reduces drasticallythat occuring unwanted currents in signal transmissions and enable a completely real and genuine sound.
As basis conductive material chemically high-purity and oxygen free copper is selected and used. The complex wiring system consisting of a total of 36 signal conductors and thus 684 individual strands with a total cross section of 15 mm ² and 10 specially arranged air pipes has a total diameter of 26 mm.
SC-6 AIR Silver Speaker cable by the meter
The SC-6 AIR Silver speaker cable has 6 Main Conductors, paired off to the 3 frequency passes treble, middle and low frequencies for all conceivable applications as single-wire, bi-wire, bi-amping and tri-wire.
Each of the six Main Conductors is divided further into six sub-conductors, which are arranged in a circle around one air pipe. A sub-conductor consists of 19 strands where silver plating allows for the treble range, clear, detailed, and brilliant highs. Tinned strands are used for the midrange for true to detail and precise transfer. Bare copper wires are implemented for punchy and clear bass.
By splitting the Sub-Conductors in a circle of ordered 6-bundles, very low capacity of about 98 pF/m can be achieved, which are a prerequisite for the complete and rapid signal transmission and avoid the intermediate storage of charge in the cable itself.
A soft banding and a flexible satin mat sheath protect the entire cable system.
The SC-6 AIR Silver speaker cable, thanks to a nearly loss-free transmission of audio signals, delivers an impressive sound, even over long distances. The fine-tuning of the individual frequency ranges promises a natural and life like music reproduction with fine sense of every detail. The breakdown of the individual frequency channels ensures brilliant, sharply defined and illustrated in impressive tones music elements. The free and airy overall image will provide an opulent space.
The SC-6 bi-amping speaker cables are manufactured with ViaBlue T6s pin (banana) plugs. As an option, the contacts can be replaced with cable shoe contacts or flexible pins contacts by unscrewing.
The SC-6 AIR silver speaker cables are braided with the ViaBlue Cobra protective sleeve that shows visually, at first glance, the dynamics of the high-end speaker cable. The cables with ViaBlue splitters are typically used to protect the cable ends from snapping off and, at the same time, offer a professional, well thought out cable routing of the single leads.


ViaBlue ™ SC-6 AIR Silver in the Bi-Wire configuration, received the rating of Sehr Gut (very good) on the site media-mixture.de - TEST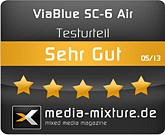 The heating time of SC-6 cables is about 30 hours.
The cables are terminated with Viablue T6s banana plugs.
COBRA company braid - not available outside of ViaBlue ready cables. Available in other colors of braids (option to choose from).
Technical Specifications:
Outer diameter (including the braid): 26 mm,


Cross-section (total): 15mm,


Cable Cover / Insulation: Silver / Tinned / PVC,


Plug contacts: OFC covered with gold 24K / Bronze covered with gold 24K,


Inductance: 0.98 μH / m
Lenght

:

1,5m

,

3m

,

5m

,

8m

Conductor type

:

Silver Plated OFC + Tinned



Polecane

ViaBlue SC-4 SILVER-SERIES - BI-AMPING Crimp
274,35 € - 1 077,01 € / pair

ViaBlue SC-4 SILVER-SERIES - BI-AMPING - banana T6s
480,34 € - 1 282,77 € / pair
24 months - Warranty is granted by the producer for a period of 24 months.
24 months