Albedo Digital MONOCRYSTAL - XLR
Dear Customers from: China, Denmark, Germany, Hong Kong, Israel, South Korea, Macao, Singapore, Spain, UK, USA - we recommend to purchase Albedo products from your local distributors.
PLEASE NOTE THAT PRICE DO NOT INCLUDE VAT, LOCAL TAX AND CUSTOMS COSTS.
AES / EBU reference digital cable with excellent space, with the natural proportions of the sound stage.
Manufactured using an innovative technology developed by our company. It represents everything that is best about cabling techniques.


Characterized by unmatched space and phenomenal resolution. Providing full and juicy sound.


Naturalness and musicality make this series work with most of the systems. Both "tube" and "transistor" ones. Dedicated for top class systems.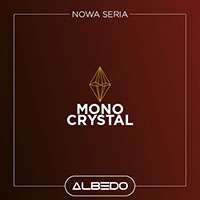 The new monocrystalline series is characterized by the fact that its construction has been redesigned - the conductors are constructed in round geometry (a combination of conductors with different diameters)

The insulation was made of silicone. Conductors made of monocrystallic silver polished on a natural diamond head.