Albedo Digital MONOCRYSTAL - BNC-RCA
Dear Customers from: China, Denmark, Germany, Hong Kong, Israel, South Korea, Macao, Singapore, Spain, UK, USA - we recommend to purchase Albedo products from your local distributors.
PLEASE NOTE THAT PRICE DO NOT INCLUDE VAT, LOCAL TAX AND CUSTOMS COSTS.
The BNC-RCA digital cable with excellent space, with the natural proportions of the sound stage.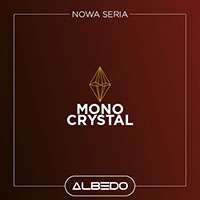 S/PDIF cable providing splendid space and yet sustaining natural proportions of the sound stage. Both micro and macro dynamics are at high levels. Because of its neutrality we recommend it for most of the converters available on the market.
The structure is based on a twist of silver wires set in antistatic insulation. Equipped with gold-plated plugs.






Features
the insulation was made of antistatic material with the addition of polyamide
thermal treatment of the conductors takes place in the argon shield, which makes this process anaerobic resulting in the silver OFS (Oxygen-free silver)
in total, a conductor with RCA and BNC plugs are not soldered and connected with plugs by means of electric arc (welded)