Furutech f-TP615E - power terminal with passive filtration
Power terminal with passive filtration using a company solution called Formula GC-303 that reduces electromagnetic waves generated inside the housing.
Rating
f-TP615 AC Power Filter/Distributor
Featuring Axial Locking System and EMI-Absorbing GC-303

Also available in 230V schuko model (f-TP615E)

Features
All conductors treated with Furutech's α (Alpha) Cryogenic and Demagnetizing Process
Nonmagnetic 24k gold-plated α (Alpha) phosphor bronze Pure Transmission Receptacles feature nylon/fiberglass bodies incorporating nano-size ceramic particles forming an extremely effective nonresonant body
Furutech's Axial Locking System lowers receptacle resonance by a factor of 10
AC-1501 noise-filter inlet features 24k gold-plated α (Alpha) brass conductors
Beautifully-crafted highest-grade aluminum chassis effectively shields against RFI (Radio Frequency Interference)
Piezo ceramic and nano-carbon damping spikes
Layer of Formula GC-303 bonded to the bottom plate effectively shields against EMI (Electro Magnetic Interference)
Star-wired conductors of Furutech α (Alpha)-22, 3.8 sq. mm (12 AWG) for low electrical resistance insulated inside resonance- absorbing tubing
Specifications:
Rating AC 125V 50/60Hz 15A
Movement Temp -10~40 ℃
Grounding Outlet 6 Holes
Preservative Temp -20~50 ℃
Filter Type Noise Filter Inlet+GC303 Absorbs Internally Generated EMI
Body Material Aluminum Alloy Chassis
Outward Size 250X127.5X70 mm ±0.5mm
Weight 1,2kgs(Approx.)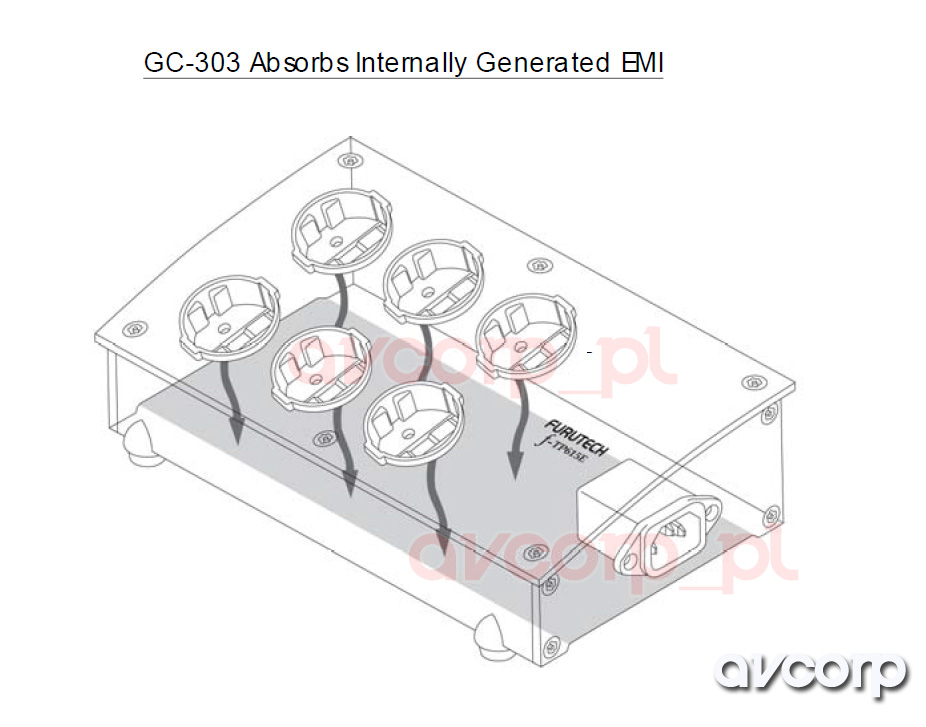 All conductors subjected to the Alpha process and demagnetization.
The terminal uses a Furutech AC-1501 (R) socket with an EMI interference filter

Furutech Axial Locking Sysytem - a resonance damping system reduces the impact of vibration on the terminal's operation by a factor of ten.

The body is made of aluminum.
Polecane

Furutech e-TP80E - power terminal

Furutech e-TP66E (G) - power terminal
24 months - Warranty is granted by the producer for a period of 24 months.
24 months